CareUEyes (100% discount) ⋆ FGR* Blog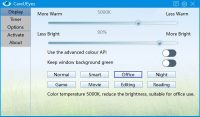 CareUEyes is an eye protection software for PC blue light filter, screen dimmer and break reminder for Windows.
CareUEyes is a dual-purpose program that can display break notifications at user-defined intervals and regulate the color temperature of your screen to make the light easier on the eyes. CareUEyes can automatically filter the blue light and make the screen look warmer and comfortable to the eyes, so that your eyes do not feel tired.